My artwork preserves the essence of my summer garden on fabric and paper to celebrate the everyday beauty of nature in the Kansas landscape. I use a wildlife camera to photograph the birds and animals that visit my garden, and I use those photos as a reference to stitch the creature using thread and my own guiding hands, much like a painter uses a brush and paint. You might say my sewing machine is my brush and thread is my paint. Just as each animal is different, each of my art pieces is unique because it is totally hand done.
Welcome to my website! Learn more about me, my artwork, and my techniques in the sections below.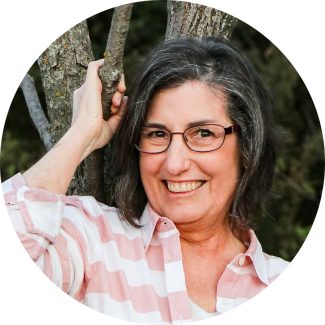 Fiber artist Shawn Marie Delker learned the joy of sewing on her mom's knee at the age of five and has been stitching ever since. She began quilting in 2000, and soon discovered art quilting. Shawn's current work combines botanical printing and thread painted wildlife that live in her Kansas garden.

Three of her quilts have been juried into galleries from Omaha to Albuquerque, she exhibits at regional art galleries, and she teaches at area galleries and the Salina Art Center. She received the third-place prize in the medium size art quilt category at the 2017 Fiber Arts Fiesta in Albuquerque, New Mexico. Her experiences include being featured as the Artist in Residence at the Red Barn Studio in Lindsborg in 2016 and 2019. She is most proud of her acceptance and popularity as a demonstration artist at the Smoky Hill River Festival in Salina since 2016, and her move to the Fine Arts area for that event in 2022.
I'm pleased to share photos of some of my recent work.
Click on the photos for more details!
Here are upcoming events and places where you can see my work.
Click on the photos for more details!
Frequently Asked Questions
FAQ: What is Botanical Printing?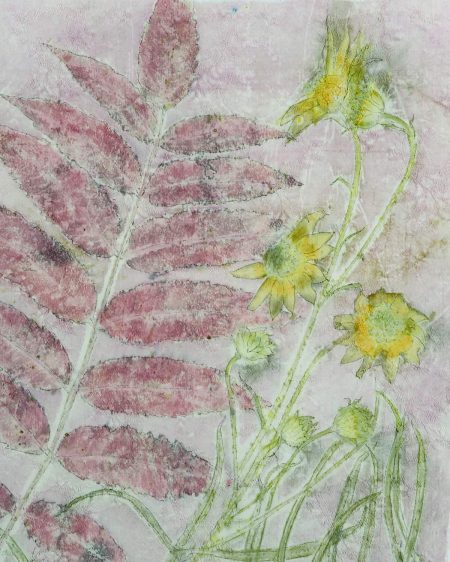 Botanical printing is a process by which plant colors and shapes are transferred to fabric or paper, typically by applying heat and pressure.
Botanical printing, step-by-step:
Apply the appropriate liquid mordant to the fabric or paper. (A mordant helps the material to accept the color of the plants).
Place fabric on a Teflon sheet on top of a layer of wet felt.
Dip plants in ferrous sulfate solution to enhance the color.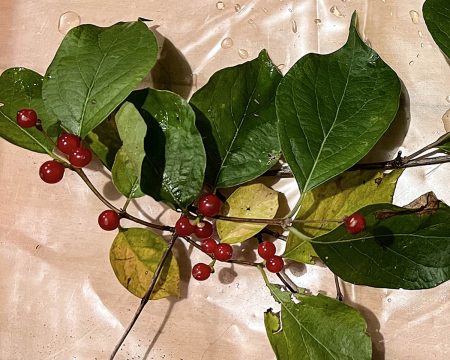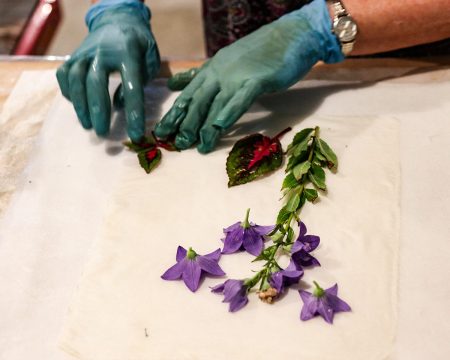 Arrange plants on fabric.
Cover plants with a second layer of wet felt and another Teflon sheet.
Place this stack on the preheated heat press and press for 4 minutes. Note: This process is dependent on the time of year and the type of plants.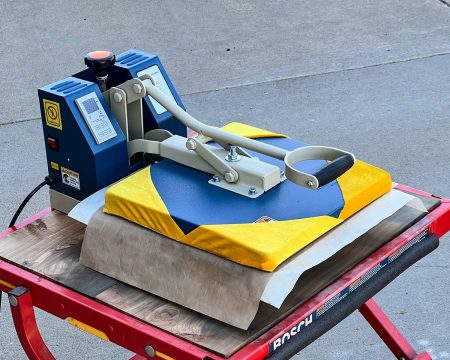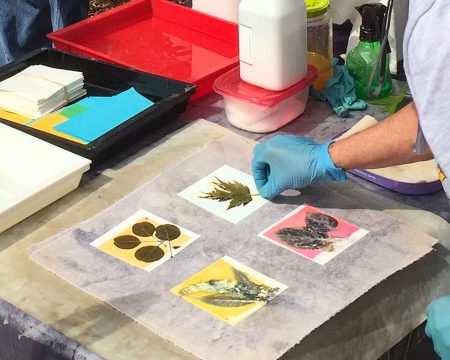 Remove stack from heat press.
Peel plant material from fabric
FAQ: What is Thread Painting?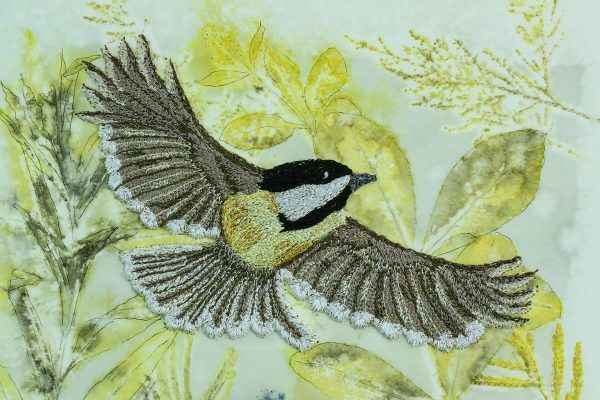 Thread painting is hand guiding fabric through a sewing machine to apply color and texture, using thread to "paint" a design.
Supplies and equipment needed for thread painting:
Select a good-quality photograph.
Print a color photograph to serve as a color reference.
Print a black-and-white photo the actual size you wish to thread paint.
Trace the main details of the black-and-white photo very carefully, making a "cartoon" drawing.
Transfer the cartoon drawing onto fabric using a light box.
Stabilize the fabric by fusing it onto buckram and felt.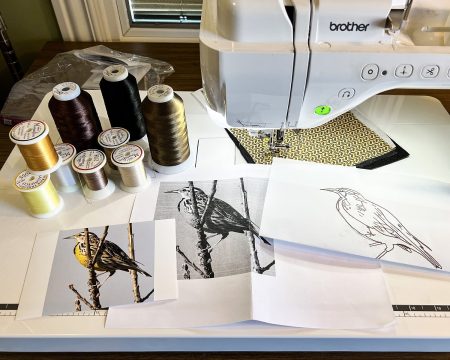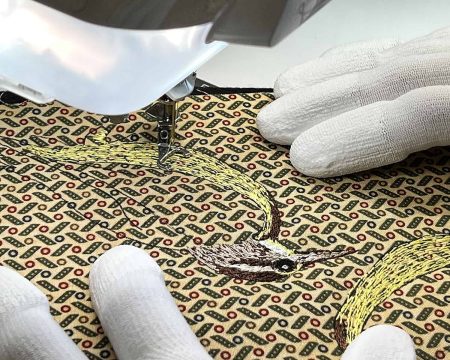 Setting up the sewing machine:
Prepare the sewing machine by putting in a #90 needle, installing the embroidery foot, lowering the feed dogs, disengaging the foot pedal, setting the machine on a slow speed, and putting 60 weight thread in the bobbin.
Use 40 weight machine embroidery thread to add color to the design, using the color photo as a reference. You may use a straight stitch or a zig-zag stitch.
Here is where the magic happens:
When thread painting birds or animals, I usually start with the eye and work out from there. I stitch in the direction of the fur or feathers with darker colors first to establish the shadows. Vary the length of the stitches by moving the fabric faster or slower; this can mimic fur especially well.
Stitch in the remaining colors, adding the highlights last.
Several layers of thread help establish a blend of color needed for a more lifelike look. Keep adding layers of thread until the design is complete.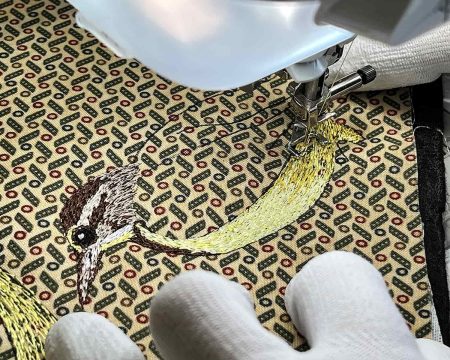 Send me an email using the form,
or see me on Facebook!